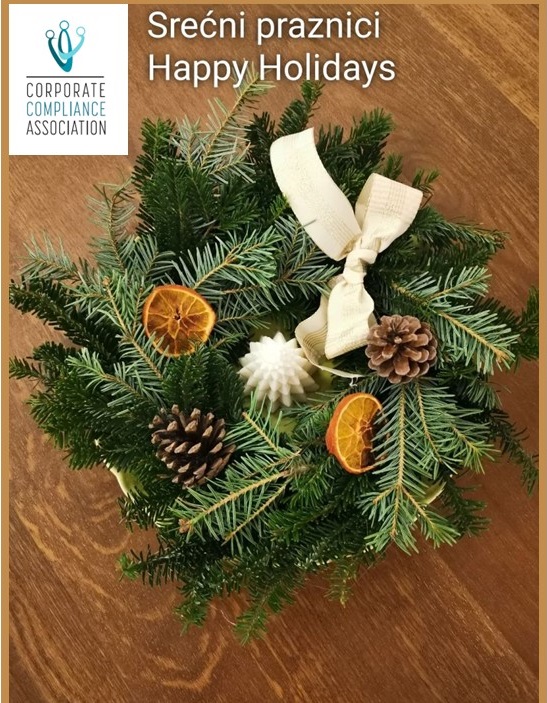 Annual General Meeting / Election of Board of Directors —
Announcement: New Board of Directors
---
Dear members, friends and colleagues,
It is with great pleasure that we announce that the new board of directors of the CCA has been selected on 23 November 2022.
The new BoD will strive to continue in the footsteps of the previous BoD and every member is fully committed to the continued growth and development of the Corporate Compliance Association.
The new BoD is comprised of:
Miloš Bogdanović: President and chairman of the BoD
Ana Bajovic: Vice president of the BoD
Jelena Danilovic, Milos Lakovic, Raško Radovanović: Member(s) of the BoD
Nenad B. Kovacevic: Secretary
---
---
Dan odgovornog poslovanja u Srbiji / Compliance Day in Serbia —
Danas slavimo Dan odgovornog poslovanja u Srbiji!
---
Na današnji dan, 1976. godine je rođen Miloš Tanjević, jedan od osnivača i prvi predsednik Udruženja za usklađenost u poslovanju. Miloš je bio jedan od najcenjenijih Compliance stručnjaka na ovim prostorima, koji je u velikoj meri uticao na razvoj Compliance funkcije, povezivanju Compliance profesionalaca i promociji Compliance kulture kao preduslova za održivo poslovanje svake kompanije i napredak društva u celini.
Miloš je bio vizionar koji je svoj rad, vreme i znanje ulagao u bolju budućnost za sve nas.
U sećanje na njega, Udruženje za usklađenost u poslovanju / Corporate Compliance Association, na današnji dan (27.10.) slavi Dan odgovornog poslovanja u Srbiji.
Udruženje će ovim povodom u budućnosti organizovati različite aktivnosti, manifestacije i kampanje promocije Compliance-a. Takođe, organizovaćemo konkurs za najbolji rad iz Compliance oblasti za studente i mlade kolege koje su tek počele svoje karijere u Compliance-u.
Pozivamo sve članove, kolege i saradnike da nam se, posebno na ovaj dan, pridruže u promociji Compiance kulture, etike i odgovornosti u poslovanju.
---
Today we celebrate compliance day in Serbia 27 October
---
On this day in 1976, Miloš Tanjević was born, one of the founders and the first President of the Corporate Compliance Association. Miloš was one of the most respected Compliance experts in this region, who greatly influenced the development of the Compliance function, the association of Compliance professionals and the promotion of Compliance culture as a prerequisite for the sustainable business of every company and the progress of society as a whole.
In his memory, on this date (October 27th) Corporate Compliance Association is celebrating the Compliance Day in Serbia. On this date in the future, the Association will organize various activities, events and campaigns to promote Compliance. We will also organize a competition for the best paper on the topics in the Compliance relevant areas for students and young colleagues who have just started their careers in Compliance.
We invite all members, colleagues and partners to join us, especially on this day, in promoting Compliance culture, ethics and responsibility in business.
#compliance #business #future #culture #ethics #cca #complianceofficers #complianceprofessionals
---
ABOUT US —
A few words about our association
---
The Business Compliance Association brings together individuals and companies advocating the establishment of a fundamental System of Values in day-to-day business operations.
The founders, members, partners and associates of the Association have recognized the fact that a multilateral approach to the principles of fairness, conscientiousness, good customs and fair relations among companies would also provide at the same time a substantial contribution to other spheres of social life.
The compliance sector has imposed itself as a contemporary point of synthesis of a company's desire to adapt its orientation toward profit according to the principles of sustainability and academic challenge, the later of which strives to study, build up, improve methodologically and launch this discipline toward a future, independent life.
---
The need for creating this association emerged spontaneously, at the epicenter of the corporate Compliance profession, where corporate values torchbearers have often been isolated, criticized, insufficiently understood and supported. On the other hand, modern business-running is accompanied by multiple risks, the most sensitive of which have their roots in the violation of ethical principles. The affairs that have eroded the reputation of corporations during the past decades are the prime indicators of the value of continuous compliance investments, the development of adequate defence lines and the Internal Control System. At the same time, the academic community is aware of the fact that business ethics is insufficiently established as a particular scientific discipline, and that, regardless of its current form – the compliance functions may predict a further hybridisation with related disciplines like business law, accounting forensics, organisational sciences, and the like.
Why corporate compliance?
---
While the term corporate compliance may sound alien to the untrained ear, it is in fact a simple concept that is based on conducting business with honesty, integrity and good will according to well establish international principles and standards.
As a member of the corporate compliance association, any company and/or individual can expect to experience personal growth based on the experiences and expertise shared amongst members. The CCA also acts as a platform for members to share cross-industrial compliance know how and it provides an excellent format for ad-hoc problem solving and discussion.
In addition to this, the association provides an easy way for interaction with other professional associations such as internal auditors and corporate lawyers. The association more often than not serves as the kindling that is needed for the successful development of other compliance related businesses, such as IT companies.
Via its website and application, the CCA also acts as a specialised job posting board for compliance industry related job openings. The association's digital channels also act as a networking platform for likeminded people who would like to connect and discuss compliance related issues and it provides a digital space for members to share their ideas and musings amongst each other.
Last but not least, the CCA allows its members to learn from one another, thereby elevating the reputation of individual members and their employees. The ultimate end goal of the CCA is to improve the overall business environment and climate in the areas that it operates in.